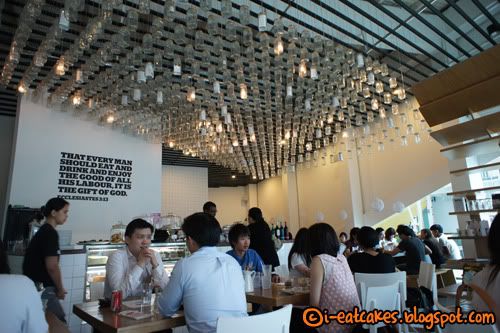 Breakfast at 2 in the afternoon, yeah buddy! As you can see, the place was packed. There was a Full House sign outside and the expected wait time was 40 minutes. Fortunately, there was a group of people leaving just as we went in so we only had to wait for the table to be cleared. Just glad that we did not have to sit there for 40 minutes watching people enjoying the food with grumbling stomachs!!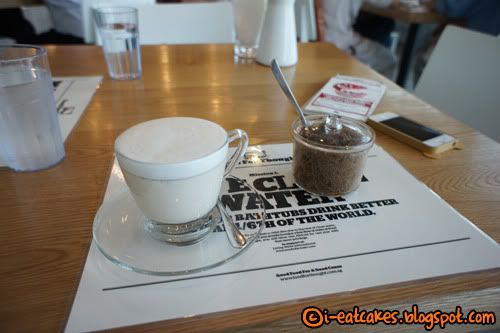 Tea Latte: Shot of Earl Grey with Steamed Milk.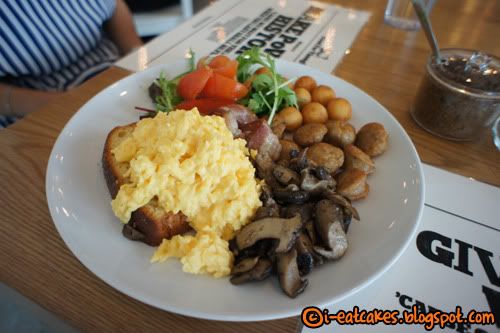 Full Works
($18): Scrambled Eggs, Bacon, Garlic Mushrooms, Chunky Chicken Sausage, Hash Brown, Toasted Brioche with Roasted Tomato Salad.
This was gigantic! Loved the mushrooms.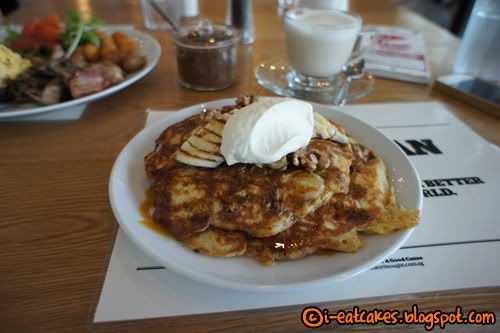 Banana and Walnuts Pancakes ($10)
And of course, the much raved about pancakes! Topped with fresh cream and gula melaka syrup, the pancakes were so light and fluffy, it tasted divine along with the warm, gooey bananas. Considering that it was a pretty huge portion, I think it was well worth the $10.
They serve breakfast from 9 am to 5.30 pm, so this is a great place to go if you want some good breakfast food after waking up in the late afternoon.