First stop of the day: the famous La Maison Angelina for their Parisian breakfast set.
The beautiful interior.
We ordered 2 sets of breakfasts.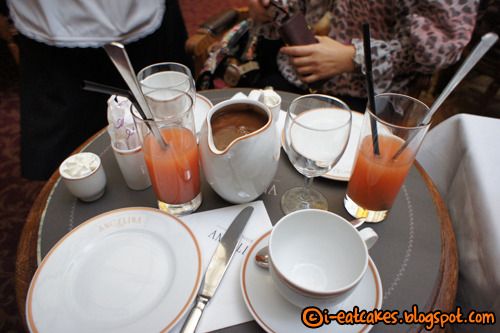 Glass of fruit juice and of course, the famous hot chocolate!
Assorted pastries.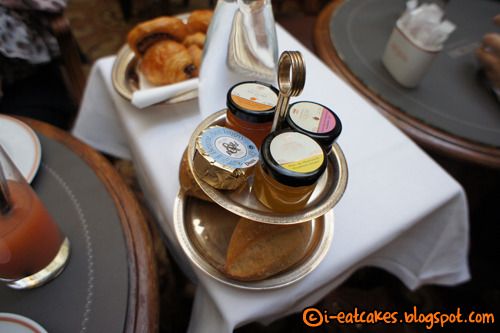 Various jams and butter to go with the bread!
Angelina is also famous for their Mont Blanc, but I didn't have any space in my stomach left for that, so maybe next time heh.
After a very filling breakfast, we shopped around in the Rue Saint Honore area before going to our next stop. It's fun to walk around there and see all the tourists with giant paper bags from Hermes, Prada, Dior, etc. Hmm someday...
Anyways, we went to Sacre-Coeur next. We intended to take the funicular up to the church, but somehow we missed it completely and ended up climbing all the way up on foot. It wasn't a very long distance but it was pretty hot that day! I mean, it was like 18 degree celsius but I didn't think it would feel that warm so I had brought my coat with me, lugging it around gave me the sweats.
Loads of people sitting on the steps, soaking up the sun. Not me tho, I couldn't wait to get inside, where it's nice and cool, in the shade.
Sacre-Coeur is located on the top of Montmartre, the highest point in the city, so it presents a great view.
A very cool street performer. My mum says a Korean TV show invited him over to perform on the show, how awesome is that?
No pictures of the interior cos no photography is allowed. It's beautiful tho, you'll just have to take my word for it.
And we finally found the goddamned funicular so we took it to get down and back to the train station.
Pretty short ride down lol.
Loot for the day, just a couple of small things:
A new wallet from Miu Miu for me! I've been using my old wallet for like 10 years now, so I figure it's time for a change :3