I've always wanted to check this place out and there was an offer on Groupon ($15 for a $30 voucher) so I immediately bought it.
Really, I should have bought the $60 voucher, considering the prices here. $30 was barely enough for 2, let alone 3 people! Each burger cost like $15, not including drinks. Of course, there was a lunch offer for $10.80 (burger + side + drink) but they didn't allow people to use the voucher for it *headdesk*.
mfw
Since I had already bought the voucher and didn't want it to go to waste, I decided to try the burgers that were not on the set lunch menu.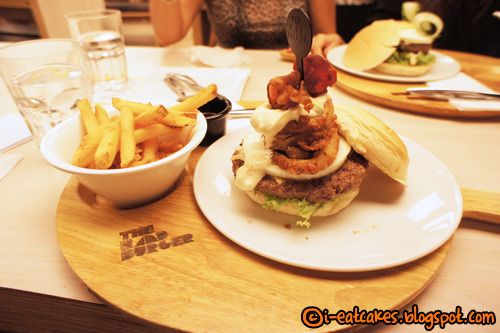 The Works ($17.80).
150g of prime beef with battered onion rings, bacon, sunny side up egg, cheddar cheese with sweet onion jam and handmade barbeque and aioli sauce.
Although I still feel this seems like a lot to pay for a burger, this one was actually really good and I would definitely order it again some time. It was even better than I expected. The sauce was frigging delicious and I enjoyed the onion rings. Everything just went so well together.
Happy Lamburger ($17.80).
Lamb patty spiced with cumin, feta cheese, sunny side up egg, mint mayo.
Wasn't too happy (haha geddit?!) after trying this one. Idk, maybe it was cause I had tried The Works beforehand, but this one seemed kinda meh in comparison, it wasn't as flavorful. Not too different from the one from EWF imo. Although I did like the mint mayo sauce. The lamb patty also had a very strong... um lamb taste, you know the one. If you don't like that taste, this burger is not for you.